Home decor and bar stuff!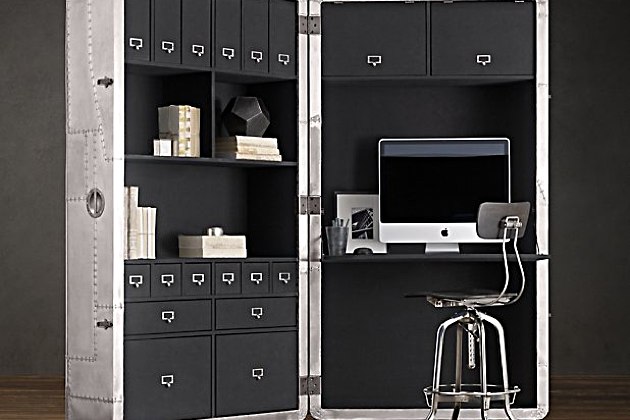 OK, first off, I want to say this is NOT "our" look. I'm not against it, although I suspect my beloved would stand at our doorway, athwart my path, with a santoku to her own throat rather than allow it in her home.
But no matter.
If your décor is of the Mid Century modern with a certain "Jet Set" vibe thereto, what with vintage airline glassware, reproduction Pan Am destination posters, etc., AND you don't have an overdose of space -- in case we're talking about, say, your pied-a-terre Downtown --
this is the piece you want
. But, at $4300, you might wait for it to go on Clearance.

Still, the distressed alumin(i)um panels, rivets, flush hardware, etc. does recall the glam days of air travel. Do not be fooled by the depiction above as a work area, complete with a Golden Pagan Idol with software Mac computer.